The Flavor of Days Bygone
WELCOME TO TOMATO TORNADO 2017
PERHAPS WE'VE GOTTEN A BIT CARRIED AWAY, SEDUCED BY THE MYRIAD SHAPES, SIZES, FLAVORS AND COLORS OF THE BEST GARDEN VEGETABLE. WE ARE LUCKY TO BE GARDENING DURING THIS TOMATO RENAISSANCE. OLD VARIETIES BEING REDISCOVERED AND OFTEN BRED FOR MORE PRODUCTIVITY AND DISEASE RESISTANCE. BEST OF ALL, RETAINING THE MOUTHWATERING FLAVORS THAT HAVE BEEN SO FORGOTTEN IN MODERN FARM PRODUCTION. I GUESS THAT'S WHY WE HAVE ADDED SO MANY DELICIOUS AND INTRIGUING VARIETIES TO OUR LIST.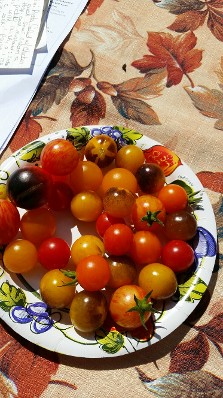 (Our tomatoes are selected based on flavor, productivity, disease resistance, and interesting names and histories.)
Abraham Lincoln- Medium sized round tomatoes, strong tomato flavor, highly productive, 1920's variety, yay Abe!

Arkansas Traveler- Bred at the University of Arkansas, 1968, medium round pink fruit, produces well in the heat of summer.


Brandywine- famous for its award winning flavor, large pink/red fruit, 1885 heirloom.


Box Car Willie- heavy production of medium sized red, round tomatoes, excellent flavor.

Cherokee Green- green skin, suffused with amber , delicious large tomatoes, meaty, productive, a new/old hybrid.


Early Girl- earliest variety with good flavor and productivity, medium sized fruits. probably the best full sized tomato production in our garden last season.

Golden Queen- Circa 1882 heirloom. Yellow with pink blush, beautiful and delicious.

Hungarian Heart- Couldn't resist a nod to my distant Hungarian progenitors. Oxheart tomato, meaty, large, few seeds and prolific.

Japanese Black Trifele- Surprisingly, a Russian heirloom variety. Pear shaped medium sized fruits, potato-leaved.

La Roma- paste tomato, larger fruit and better disiease resistance than Roma

Pink Berkley Tie-Dye- medium size tangy fruit, red and green and chartreuse, beautiful to behold and to eat.


Momotaro- Japan's most popular tomato! Pink and sweet, prolific bearer of round medium sized pink and smooth tomatoes.

Mortage Lifter- famously productive, large meaty pink fruit

San Marzano- Italian paste tomato, meaty bright red fruit, great for sauce or paste.


Sioux- University of Nebraska bred heirloom, released in 1944. Round red tomato with exceptional flavor, wins many taste tests.


Supersteak- giant beefstake with large yields of large tomatoes. The standard of slicing varieties.

Think Pink- new hybrid, medium large pink fruit,nicely sweet yet "tomatoey", bears early and continually.


CHERRY TOMATOES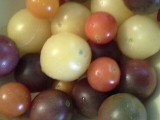 (To pick and eat or to put in salads with no slicing necessary. Just how many colors and tastes can we find?)
Ceylon- small, flattened and scalloped fruits, nicely acidic and still sweet. Highly unusual shape.

Coyote-whitish/yellow, prolific, very sweet and fruity flavor.

Galina's- Golden yellow, Siberian origin, potoato-leaved,delicious.

Green Zebra Cherry- Somewhat grape or pear shaped. green/gold with darker green mottling. Lots of medium cherry size fruits with strong tomato flavor. A delicious, intriguing, and great producer last season.

IndigoCherry Drops- large yields, very sweet, high in anthocyanins.

Indigo Gold Berries- purple and gold tangy sweet fruit.

Sunrise Bumblebee- , unusual and intriguing.yellow with red stripes, sweetly acidic.



Sun Gold- orange fruit abundantly produced, very sweet flavor, a favorite.


Sweet Million- tons of red tomatoes, sweet and pungent, our favorite for eating off the vine and for salads with no chopping required.

Tomatoes and Flavor
Why do homegrown tomatoes taste so much better than storebought? Unless you are buying from a local farmstand, or from a store that buys from one, you are not able to purchase any of the many hundreds of great tasting varieties that exist in the tomato world. Large farms grow produce that is uniform for ripening, harvest, packing, and shipping. Flavor is not part of the equation. Even if a variety is not completely devoid of flavor, the fruit is harvested well before fully ripe, so that it can ship with minimal bruising. Until the day when a great flavored tomato exists that can meet the other criteria , large farms are not able to provide the taste we look for in tomatoes. Luckily, we on the East End have plentiful sources for fulfilling our tomato desires.
ORNAMENTAL PLANTINGS GREENHOUSES
NURSERY PHONE 631 765 2614
OFFICE PHONE 631 477 2410
E-MAIL LTLBNY@VERIZON.NET
NURSERY LOCATED ROUTE 48 SOUTHOLD NY
FOLLOW US ON INSTAGRAM @ORNAMENTALPLANTINGS