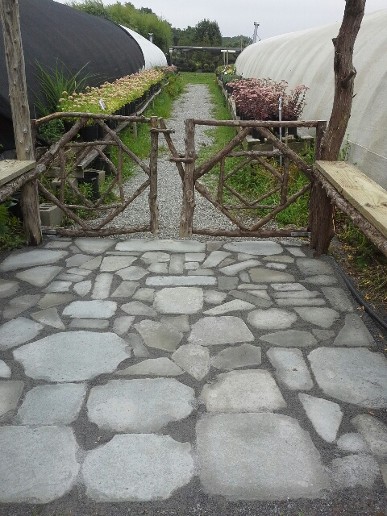 The Chicken Report
The flock is laying delicious eggs at a voluminous rate. We thank them every day.
I must admit that I have a favorite of the new chickens, the smallest and cuddliest of the Pearl White Leghorns.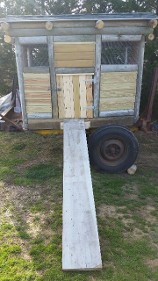 We select our breed of chickens based on productivity, mild and friendly temperment, winter hardiness and winter egg laying habits, smaller breeds that require a little less food, yet are good egg producers. We also look for pretty chickens in a variety of colors and feather patterns. Our newest chickens are of the following breeds;
White Plymouth Rock- a white feathered chicken with bright red combs and yellow legs. Brown eggs.
Red Star- a smallish reddish/brown hen of friendly demeanor and strong egg production. (sex linked chicken, meaning all the female chicks are brown feathered). Brown eggs.
Silver Laced Wyandotte- silvery white feathers edged in black. Brown eggs.
Pearl White Leghorn- quite small chickens with pure white feathers, prodigious producers of white eggs.
Single Comb Brown Leghorn- another small chicken, lays lots of white eggs.
This combined flock of our older and newer chickens is our friendliest and most productive. They are both handsome and silly and embody everything that is lovable about chickens.
.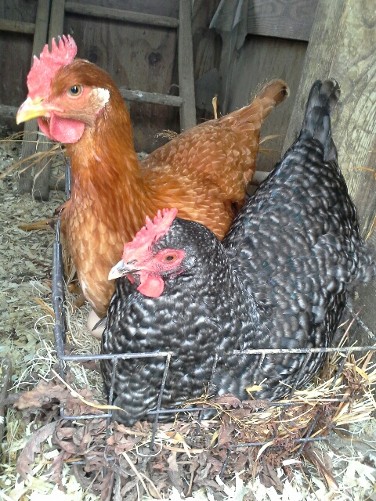 GARDENS AND GARLIC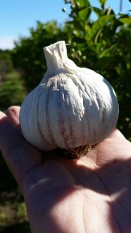 This summer's harvest was both the most numerous in terms of number of bulbs, and largest in terms of the size of the bulbs. We sold some, gifted some, replanted the new garlic bed, and still have been enjoying the flavor in our food all year.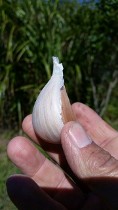 FIG TREES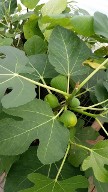 Fig plans have been made, we're going to be planting one each of our dozen varieties in the Fig Plantation. This will give us the chance to evaluate growth habits, hardiness, and importantly, flavor. Figs grow quickly, so hopefully there will be some crops to harvest soon.
Following several many years of searching, we've finally have a trove of Fig Tree varieties. Our propagation has gone well and we have assured a good supply for the future.We can now offer 12 distinct varieties of deliciousness. See the Fig Tree page for varieties and descriptions.
NEWS OF OUR CHILDREN
Eric has settled in nicely at his teaching career, this winter he was granted tenure, which will commence beginning after the Spring semester.
Eric's book was published by Cambridge University Press a year ago. " English Alliterative Verse, Poetic Tradition and Literary History ". We have a copy he gave us, and someday hope to somehow understand some of it.

Sofia, our wonderful daughter-in-law, graduated this past May from Medical School, and also with an MBA from Business School. She is now a first year resident at a great metropolitan hospital, doing as usual, a super job.

Carl is living in the Pacific Northwest, Portland Oregon. We saw him as he came East for Christmas visiting. He is his ever interesting self; music, visual arts, and penetrating philosophical concepts. We all spent time in Boston with Sofia's parents,grandparents, brother and uncle. Wonderful food, folks, fun.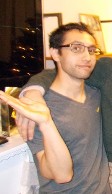 NEW PLANTS
.For this season we are adding almost 3 dozen plant varieties that are new or will reappear on our list. Some of the highlights are:
Agastache Rosie Posie- sounds great, a raspberry flowering hummingbird attracting, compact grower that will bloom all summer, and its anise scented foliage is deer resistant.
Honeysuckle Major Wheeler - fragrant red flowers, also hummingbird magnetic, a healthy quick growing vine. I first learned of it as being used on The Highline.
Anemone Wild Swan- We had some last year to try them, a delicate nodding white flower with a lilac purple reverse, and unlike fall blooming Anemone, began blooming in early summer.
New Hardy Succulents - Sedum Sunsparkler hybrids, low growers with outstanding unique foliage colors and flowers. Chick Charms Hens and Chicks- also uniquely colored, exciting newly developed varieties.
.
SUCCESSES
We're very happy with our expanded shrub offerings, and have added to that range for this season. One of our new favorites is Viburnum Summer Snowflake. It is a fast grower, eventually 5'-6'. The dogwood-like flowers are white and borne profusely all season. The fall color is maroon and the form of the plant is bushy in sun or light shade.
Agastache Black Adder- all summer long tall deep purple/blue flower spikes, attractive to butterflies and hummingbirds, fragrant spicey deer resistant foliage.
Verbena bonariensis- 3'-4', small purple flowers atop slender stems bloom from late spring through the final freeze, attracting butterflies of all descriptions and the occassional hummimngbird, as well as Goldfinches, who seem to pose with the complementary purple flowers.

Buddlea Miss Molly- Butterfly Bush, compact at 4'-5', a brilliant nearly red flower, profuse and consistently in flower until late fall's frosts.

Succulents- We've been expanding our selection of non-cold hardy succulents that we grow. The diverse interesting shapes, sizes, colors are fascinating and beautiful.




FERNS

With the expansion of the shade house last season, we were able to grow and display an increased variety and quantity of ferns.We'll again have a great supply of favorites such as Regal Red Japanese Painted Fern and Ghost Fern, as well as new varieties such as Upside Down Fern and Log Fern.
DEER RESISTANT PLANTS
Facing the reality of gardening in deer country has led us to seek out exceptional plants that have shown strong deer resistance. Almost all our new varieties are plants that exhibit beauty, and are not on Bambi's menu. Among the most gardenworthy have been these;
Calamintha Montrose White- a topmost desirable plant! Recommended by a Shelter Island gardener, deer resistant fragrant foliage, tiny white flowers all summer. 12"-15" ht. by 18"-24" spread. Drought tolerant, sun, lightshade. Constantly in bloom and as low maintenence as can be
.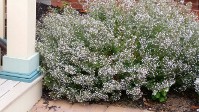 Allium Millenium- 18"-24" tall and wide, deer resistant foliage, 2" lavender/purple/pink globe flowers early-late summer. Cheerful and carefree and ruggedly reliable.
Lavender- each of the varieties we grow are deer resistant and provide flowers and fragrance for sunny well drained spots. Provence is the largest one we grow at 30"x30", Silver Frost has the largest dark purple blooms and the whitest foliage, Munstead is 15"-18" and has the best flowers for drying, and Ellegance Snow has white flowers on compact plants at 12"-15".
All the above plants are also in the category of " look great all season, even during the heat of a dry July and August."
ROSES
Rugosa Rose Hybrids- varieties with double white, double purple, double yellow, double and single pink flowers. Richly fragrant blooms. Very low maintenence, almost no disease issues, tolerant of harsh seashore conditions, yet happy in a garden bed. Blooming in spring, and then in summer, and again in fall. Our varieties include Hansa, Frau Dagmar Hartopp, Blanc Double de Coubert, Moje Hammerberg, and several others, and seedling grown Rosa rugosa for bluff planting.
The Knockout family of roses continues to impress. Almost total disease resistance, the longest bloom time of any rose, and reliable winter hardiness, make these roses the easiest to grow and enjoy. Our newest varieties offered are Home Run and Pink Home Run. They have single flowers in profusion, from Spring though hard freeze. Home Run is red, and Pink Home Run is... pink. They are both very disease resistant, as are all the Knockout family of roses.
EARLY BIRD DISCOUNT
Special bonus for planning ahead!! The early bird catches the largest discount!
For all plant orders confirmed and paid by April 10th 2018, we offer 25% off the usual reasonable price per plant. This includes any plant on our list.
If you cannot decide which plants to pre-order, a gift certificate can be purchased at the discount rate.
To order;
Call, write, e-mail to confirm availability and price of the plants you wish to order.

Call office or nursery before plant pick up to confirm they are ready for planting.
Mail payment/use credit card, (by phone or in person, not online),before April 10th.
Jack's Health Report
I'm happy to say, that as of January of this year, I've officially been released from follow up visits, and have a clean bill of health. Thanks you to everyone who asked after my health throughout all these past years.